The world we live in is vastly different from the world in which Adelaide Worth Daniels Key established an endowment to support community engagement at the University of North Carolina Asheville. Since its inception in 1998, the Key Center for Community Engaged Learning has evolved in response to the demands of our changing world. Aligning with contemporary philosophy in the field of community-engaged learning, the Key Center team puts our hearts, minds, and hands/bodies into partnerships and progress. 
The Key Center invites you to learn more about the incredible community engaged work and partnerships that UNC Asheville faculty, staff, and students have facilitated over the last academic year in the 2021-22 Key Center Annual Report. Join us in celebrating another amazing year of dynamic and robust connections between the UNC Asheville campus and the Asheville-Buncombe community!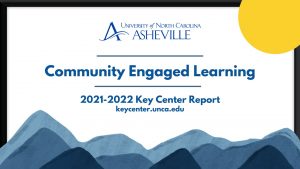 We continue to be inspired by the high quality work being done and we are encouraged by UNC Asheville's growing interest in community engaged learning as a high impact practice. Working in-and-with community requires a significant investment of time and energy and we are deeply grateful to all of the dedicated faculty, staff, students, and community members for their unflagging commitment to creating learning opportunities that center community relationships and priorities.