Between the 2011-2012 and 2022-2023 academic years, 87 UNC Asheville students graduated with a Community Engaged Scholar distinction. The Community Engaged Scholar honor is one of five academic recognitions available to graduating students at UNC Asheville. It provides an opportunity for students to become deeply involved in community-based research and action in Asheville and Western North Carolina – and to receive recognition for their efforts. The Community Engaged Scholar program is just one of many ways that students can experience Undergraduate Research at UNC Asheville.
Community Engaged Scholars complete six or more service learning credit hours, work with a faculty mentor, connect with a community partner advisor, apply and are selected through an application process, complete a Community Engaged Project that directly responds to a need identified by a local non-profit organization, submit a reflective research paper, and present at UNCA's Symposium of Undergraduate Research, Creativity, and Community Engagement (see below for due dates).
Applications are accepted on a rolling basis, but require attendance at a Community Engaged Scholars Workshop to begin the review/approval process (contact keycenter@unca.edu for upcoming dates).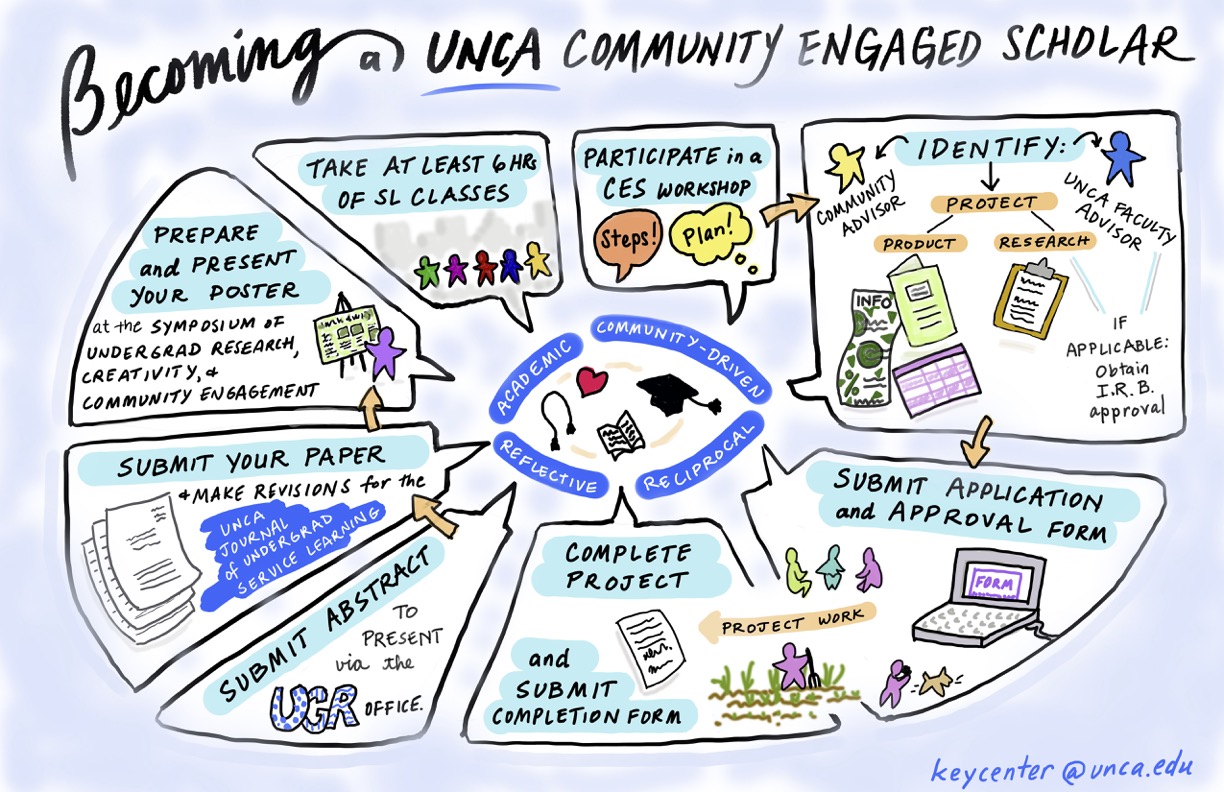 Requirements
Complete six or more academic credit hours in service-learning designated courses (usually two courses). They are indicated by an SL notation beside the course listed on the Registrar's website. You must earn a grade of B- or above in each course. Students should complete at least 1 service learning course before applying. 

Complete a Community Engaged Scholar Workshop (in person with quiz, dates listed below). Visit our Service & Educational Opportunities website to register for a workshop and receive a Zoom link to join.

Fill out and submit an Application Form with all required signatures.

Complete a Community Engaged Project with a local non-profit agency that directly responds to a need identified by that agency.

Complete a

reflective research paper

 that outlines the Community Engaged Project, including the learning that came from it.

Present the Community Engaged Program at the Undergraduate Research Symposium/Celebration of Community Engaged Learning (scheduled at the end of each fall and spring semester).

Fill out and submit a Completion Form with all required signatures.
Important Forms & Guidelines 
Previous CES Projects
*Community Engaged Scholar project process is not intended to be completed in one semester. Approval to do so, because of special circumstances, may be requested.